New! Interactive
Official Nevada
Boater Safety Course
The fastest way to get your boating license—no timers!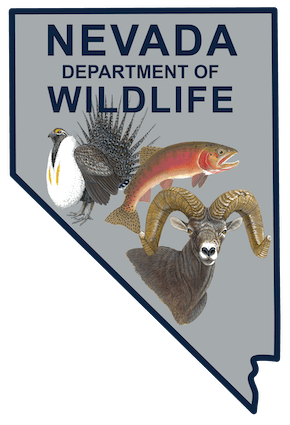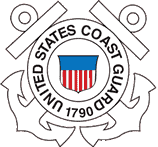 You need boating education in Nevada if you were born on or after Jan. 1, 1983, and will be operating a vessel over 15 hp on interstate waters.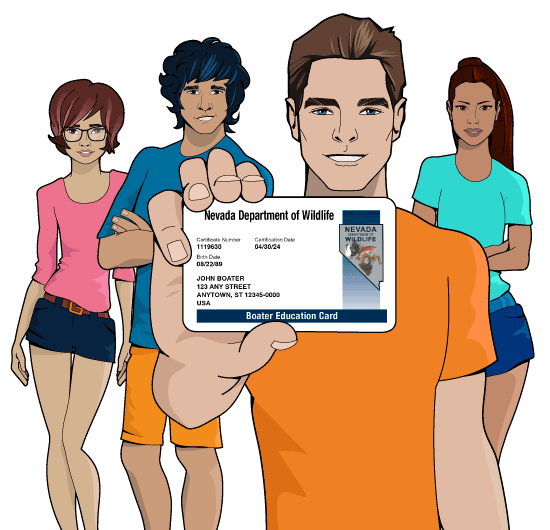 Get Your Nevada Boating License in 3 Easy Steps.
1


Play and pass the $49.50 interactive course.

Learn and test your boating knowledge while you venture through this fun, interactive course. Once you successfully guide your group to safety, you may take the final exam. You have multiple attempts to pass the final exam.
---
2


Print your certificate.

The boater education certificate proves that you completed an approved boater safety course. Your permanent Nevada Boater Education Certificate will arrive 8-10 business days after successfully completing this course.
---
3


Go boating!

Your Nevada Boater Education Certificate is recognized in all U.S. states and Canada.
---
Why Take This Course?
| | | Other Courses |
| --- | --- | --- |
| Nevada–Approved boater education | | |
| No minimum time requirements | | |
| Complete the course in under 3 hours | | |
| Real-life situations | | |
| Role-playing simulations | | |
| Final exam | | |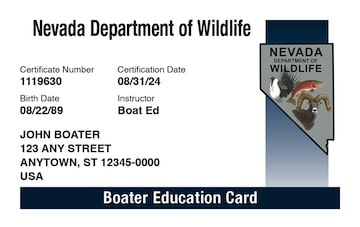 The Nevada Boater Education Certificate
The Nevada Boater Education Certificate (often referred to as "Nevada boating License" or "Nevada Boater Education Card") is proof that you have successfully completed all state-mandated boater education requirements.
Vessel operators who are required to have a Nevada Boater Education Certificate must carry their card on board the vessel and have it available for inspection by enforcement officers.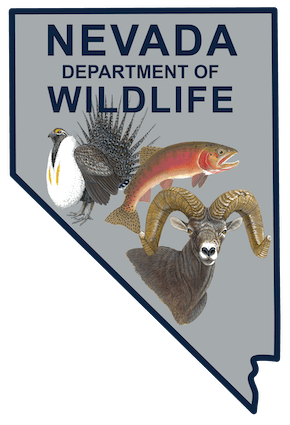 The Only Approved Interactive Boater Safety Course in Nevada
This interactive course was developed in accordance with the standards set forth by NASBLA as well as meets the requirements of the Nevada Department of Wildlife.
Official course provider approved by:
Nevada Department of Wildlife
1100 Valley Road
Reno, NV 89512
775-688-1500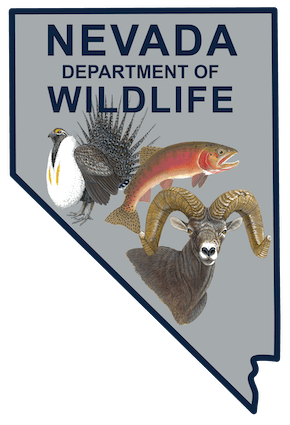 Get Started
Start your interactive Boater Safety Course now and get your boating license 2–3 times faster than other courses.
The Only Gamified Interactive Course
---
Nevada-Approved Boater Safety Education
Our interactive boater safety course satisfies all boater education requirements established by NASBLA and the Nevada Department of Wildlife.
No Minimum Time Requirements
Students complete our interactive courses faster than our traditional courses. Why? There are no timers—ever!
Complete the Course in Under 3 Hours
Instruction that engages the brain using both words and images has been shown to significantly increase student retention and comprehension. When you combine interactive learning with no minimum time requirement, it's easy to understand why many of our students complete their boater education in under 3 hours!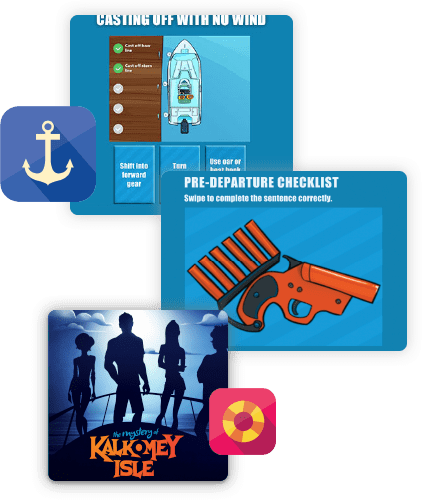 Real-Life Situations
Make choices for your character that will earn you awards and allow you to move through levels by applying what you've learned about boater safety throughout the challenges.
Role-Playing Simulations
We made sure to include plenty of mini-games and realistic simulations to keep you engaged along the way. Earn achievement badges as you master trip planning, emergency preparation, and safety operations. Crack all of the levels, and you will be awarded your boating education certificate.
Nevada Boating Laws and Regulations
Nevada law requires boater education for all boaters born on or after Jan. 1, 1983, who operate a motorized boat of more than 15 horsepower.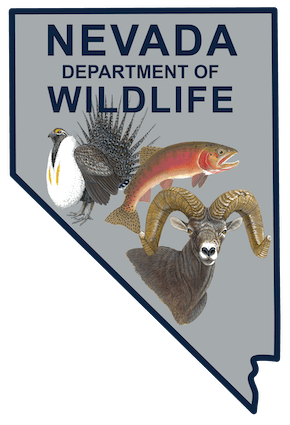 Nevada Age and Operator Restrictions
No one under the age of 14 years may operate a personal watercraft (PWC) on Nevada waters at any time.
Only those 16 years or older may operate a vessel that is towing a device or, be 14 years of age if being supervised by someone at least 18 years.
Nevada Boater Education Requirement Enforcements
Nevada law enforcement officers patrol the waterways to make your boating experience safe and pleasant. Cooperate with them by following the laws and guidelines.
Not carrying your Boater Education Card when one is required can result in a fine.
Our Latest Blog Posts
For additional information and resources related to best boating safety practices, read through our latest blog posts.

Do You Need a License to Drive a Jet Ski?
Boating season brings people of all ages dashing to the waterfront...
More on jet ski licenses

What You Need To Know About Boating Accidents
The U.S. Coast Guard has released its annual report on boating accidents...
More on boating accidents
Essential Boating Safety Equipment
According to the United States Coast Guard (USCG), there were 613 deadly boating...
More on boating safety equipment
Customer Service
Your ilearntoboat course comes with a dedicated customer service team made up of real people, not robots. We're here to provide assistance to you through all channels—phone, email, and chat.
We're available to help you:
9:00am to Midnight EST, seven days a week.
1-800-830-2268 (toll free), or 214-351-0461
[email protected]