The U.S. Coast Guard has released its annual report on boating accidents.
The U.S. Coast Guard (USCG) has updated its recreational boating statistics for 2019. This blog post gives a breakdown of those statistics, along with helpful graphics that visualize some of the data for three core factors in boating accidents: drowning, alcohol use and a lack of boater safety education.
Drowning and Life Jackets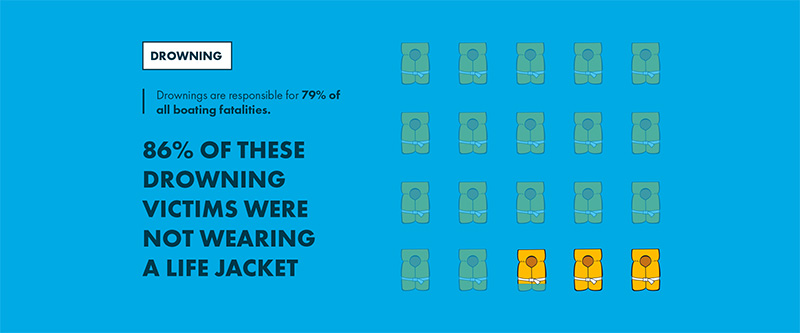 In 2019, drownings were recorded as the cause of death in 79% of all boating fatalities. The USCG reports that 86% of these drowning victims were not wearing a life jacket. According to the CDC, an average of 332 people died from drowning in boating-related incidents each year from 2005–2014.[1] Approximately one in five people who die from drowning are children ages 14 and younger. This data reinforces the USCG's message that boaters always should wear life jackets when out on the water.
Fatal Boating Accidents and Alcohol Use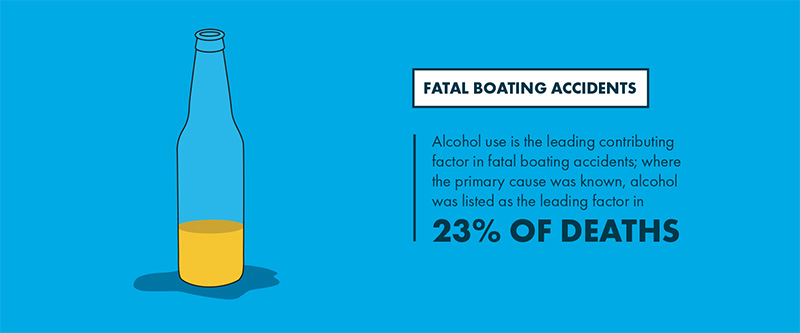 Alcohol use is the primary contributing factor in fatal boating accidents. In 2019, where the primary cause was known, alcohol was listed as the leading factor in 23% of deaths. Alcohol use also was one of the top five primary contributing factors to all boating accidents. (USCG report, page 6)
Boating Fatalities and Lack of Boater Safety Education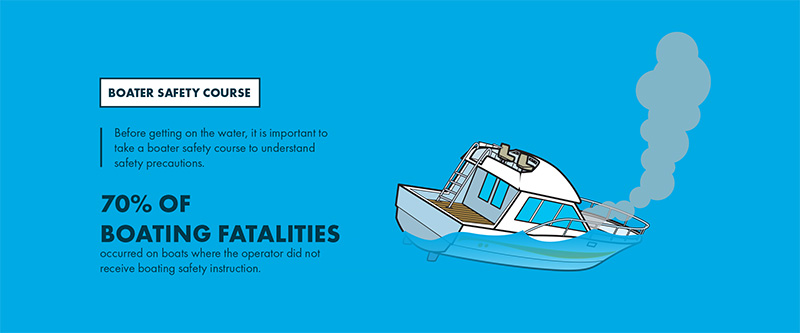 Before getting out on the water, it is important to take a boater safety course that offers instruction on safety precautions. In 2019, 70% of boating fatalities occurred on boats where the operator had not received boating safety instruction. Courses like ilearntoboat are designed to teach the basics of boater safety and the legal requirements for boating in each state. Additionally, they meet the standards set by the USCG, the National Association of State Boating Law Administrators (NASBLA) and relevant state boating licensing agencies for boating safety instruction. ilearntoboat is an interactive, gamified course that is built around real-life scenarios and role-playing simulations. It doesn't use timers, so students can learn at their own pace with engaging lessons that are available on any device.
The USCG's 2019 report also includes information on the leading causes of most boating accidents as well as a ranked list of the most common boating emergencies.
What are the leading causes of most boating accidents?

What are the most common boating emergencies?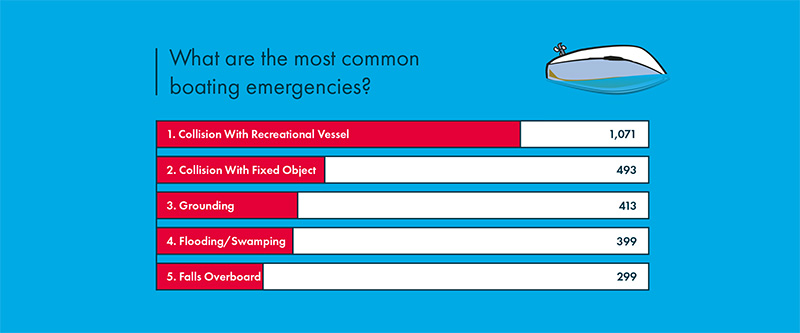 Click here to download the full infographic.
[1] https://www.cdc.gov/homeandrecreationalsafety/water-safety/waterinjuries-factsheet.html