New! Official Interactive Boater Safety Courses
Get Your Boating License Online
The Only Interactive Boater Safety Courses Recognized by the U.S. Coast Guard, NASBLA, and Your State Boating Licensing Agency.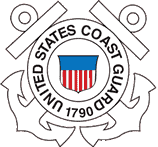 Choose Your State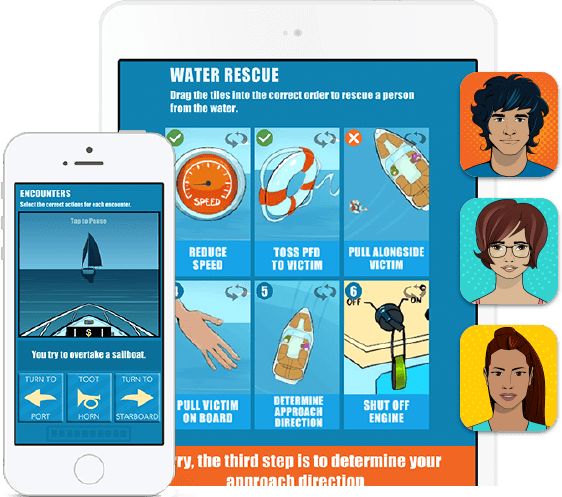 Available Interactive Courses
United States
Interactive Courses Coming Soon
United States

District of Columbia Coming Soon! The District of Columbia Interactive Boater Safety Course. Approved by NASBLA.

Georgia Coming Soon! The Georgia Interactive Boater Safety Course. Approved by NASBLA.
How Does iLearnToBoat Work?
iLearnToBoat is a gamified boater safety course that is built around real-life scenarios. Make choices for your avatar, and complete in-game challenges that allow you to move to the next level. Once you have successfully completed all the challenges and the final exam, you will receive your temporary boater education certificate.
100% Approved Boater
Safety Courses
We develop interactive boater safety courses in conjunction with the very same U.S. state and federal agencies that create and administer boater education laws. Our interactive boater safety courses satisfy all boater education requirements from the following agencies:
National Association of State Boating Law Administrators (NASBLA)
iLearnToBoat interactive boater safety courses are approved by the National Association of State Boating Law Administrators (NASBLA) and meet U.S. Boating Education Standards. NASBLA represents the recreational boating authorities of all 50 states and the U.S. territories.
U.S. Coast Guard
Our boater safety courses are recognized by the U.S. Coast Guard as meeting the standards of the National Recreational Boating Safety Program.
Your State Agency
Successful completion of your iLearnToBoat course fulfills the boater education requirements in your state.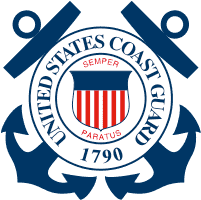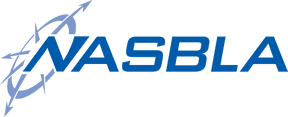 Boater Education – It's the Law!
In the United States, most states require boaters to carry proof of boater education while operating a powerboat or PWC on state waterways. Before getting on the water, check to see if your state requires boater education.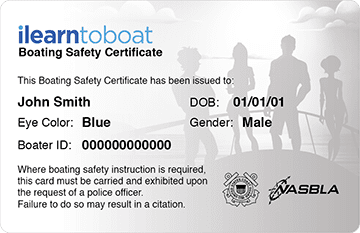 Get Your Boating
License Online
A boater education card (sometimes called a boating license) is proof that you have successfully completed your state's approved boater safety course. You can get your boater education card by successfully completing a boater safety course with iLearnToBoat.
Customer Service
Your iLearnToBoat course comes with a dedicated customer service team made up of real people, not robots. We're here to provide assistance to you through all channels—phone, email, and chat.
We're available to help you:
Mon - Fri: 8AM to 8PM CST
Sat - Sun: 8AM to 5PM CST.
1-844-300-0533